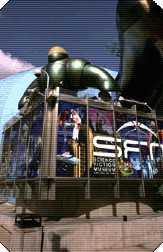 Science Fiction Hall of Fame
& Museum, Seattle, Washington
The Science Fiction Hall of Fame
The Science Fiction and Fantasy Hall of Fame was founded in 1996 by the Kansas City Science Fiction and Fantasy Society. In 2004 the Society transferred the Hall of Fame duties to the new Science Fiction Museum and Hall of Fame in Seattle. Each year, four individuals (five in later years) are honored on the basis of their continued excellence and/or long-time contribution to the science fiction and fantasy field.
2016 UPDATE: The Hall of Fame has been renamed again, this time to the Museum of Pop Culture, although I'm not changing the name or URL of this page. Eligibility has been expanded "to recognize the genre's most impactful creations" in addition to creators, and for the first time, the general public was allowed to submit nominations.

2017: Stan Lee, J. K. Rowling, Buffy the Vampire Slayer TV series, The Legend of Zelda video game series
2016: Terry Pratchett, Douglas Adams, Star Trek, Blade Runner.
Also, in honor of the museum's 20th anniversary, 20 others were inducted as well:
Creators: Margaret Atwood, Keith David, Guillermo del Toro, Terry Gilliam, Jim Henson, Jack Kirby, Madeleine L'Engle, C.S. Lewis, H.P. Lovecraft, Leonard Nimoy, George Orwell, Rumiko Takahashi, John Williams
Creations: 2001: A Space Odyssey, Dungeons & Dragons, The Matrix, Myst, The Princess Bride, Wonder Woman, The X-Files
Previous Inductees
2015 - James E. Gunn, Georges Méliès, John Schoenherr, Kurt Vonnegut, Jack Gaughan
2014 - Leigh Brackett, Frank Frazetta, Stanley Kubrick, Hayao Miyazaki, Olaf Stapledon
2013 - H. R. Giger, Judith Merrill, Joanna Russ, J. R. R. Tolkien, David Bowie
2012 - Joe Haldeman, James Tiptree, Jr., James Cameron, Virgil Finlay
2011 - Vincent Di Fate, Gardner Dozois, Harlan Ellison, Moebius
2010 - Octavia E. Butler, Richard Matheson, Douglas Trumbull, Roger Zelazny
2009 - Edward L. Ferman, Michael Whelan, Frank R. Paul, Connie Willis
2008 - Ian & Betty Ballantine, Rod Serling, William Gibson, Richard M. Powers
2007 - Gene Wolfe, Ridley Scott, Ed Emshwiller, Gene Roddenberry
2006 - George Lucas, Anne McCaffrey, Frank Kelly Freas, Frank Herbert
2005 - Ray Harryhausen, Steven Spielberg, Chesley Bonestell, Philip K. Dick
2004 - Brian W. Aldiss, Harry Harrison, E. E. "Doc" Smith, Mary Wollstonecraft Shelley
2003 - Wilson Tucker, Kate Wilhelm, Edgar Rice Burroughs, Damon Knight
2002 - Samuel R. Delany, Michael Moorcock, James Blish, Donald A. Wollheim
2001 - Jack Vance, Ursula K. LeGuin, Alfred Bester, Fritz Leiber
2000 - Poul Anderson, Gordon R. Dickson, Theodore Sturgeon, Eric Frank Russell
1999 - Ray Bradbury, Robert Silverberg, Jules Verne, A. Merritt
1998 - Hal Clement, Frederik Pohl, C. L. Moore, Robert A. Heinlein
1997 - Andre Norton, Arthur C. Clarke, H. G. Wells, Isaac Asimov
1996 - Jack Williamson, A. E. van Vogt, John W. Campbell Jr., Hugo Gernsback
Would you like to contribute an article on your favorite SF, Fantasy or Horror book, movie or TV show?
Just email me.
We would appreciate your support for this site with your purchases from
Amazon.com and ReAnimusPress.