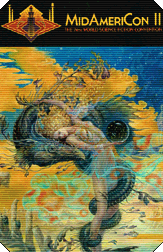 Artwork © Kinuko Y. Craft
All Rights Reserved www.kycraft.com
Book and logo design ©2016 Mid American Science Fiction and Fantasy Conventions, Inc.
My MidAmeriCon II Report
MidAmeriCon II, the 74th World Science Fiction Convention, was held last week in Kansas City, Missouri, August 17-21, 2016. I attended the middle three days of the con, and had a great time. Met several writers I've admired for years, also some newer voices, got quite a few books autographed, bought more and grabbed a few freebies. I also sat in on many interesting panels, equally divided between SF literature subjects and science fact information. The only thing I regret is I had to miss scores of panels that were probably just as interesting, since some hours had up to a couple dozen events going on at the same time. Did lots of walking too. Even though they were using less than half of the convention center, it's was still a huge venue, and it seemed every other panel I wanted to attend was at opposite ends of the building from each other. By the way, the reason for the Roman numeral II in the name of the con is that there had been another Worldcon in Kansas City forty years ago, 1976. The main Guest of Honor that year was Missouri native Robert A. Heinlein, and that was likely the last con he attended.
Oddly enough, other than one panel, I didn't catch any of the events featuring this year's Guests of Honor, which included writers Michael Swanwick, Tamora Pierce, and Pat Cadigan (Toastmaster of the Hugo ceremony), editors Patrick and Teresa Nielsen Hayden, and artist Kuniko Craft. The image to the right is from the official souvenir program, featuring one of Ms. Craft's paintings, "The Grail of the Summer Stars," originally the cover for the book of that title by Freda Warrington. Apologies to these people, and I mean no disrespect, but there were other people and events that interested me more. Contrast that with my experience at LoneStarCon3 in 2013. I caught as many opportunities for panels featuring their writer GoH, Norman Spinrad, one of my all-time favorites.
Worldcons have grown considerably over the years, since they include many different formats of entertainment that attract a wide range of fans. Most older members are primarily long time readers of SF. Others may have come to the genre as fans of a particular TV show or movie franchise (Doctor Who, Star Wars, The Walking Dead, the Marvel films, etc.), or maybe just comics. It's possible there were some who spent most if not all of the con playing table top games, or interacting with other cosplay afficianados. Some came as vendors, either of their own books or art, or representing their independent book store. There were many short (and a few full-length) films playing throughout the con, none of which I saw. Tables were also set up to promote next year's Worldcon75, to be held in Helsinki, Finland, as well as the bid proposals for the Worldcon for 2018 (won by San Jose), and the 2017 NASFiC (North American Science Fiction Convention), which is scheduled for whenever Worldcon is outside North America. That will be in San Juan, Puerto Rico next July 6-9. Even though it can't be voted on until next year, there was also a group promoting Dublin, Ireland for the 2019 Worldcon.
I drove from my home in Texas. I could have made it in one run, but chose to not have to leave too early Wednesday, and spent the night in Joplin, Missouri, about two hours south of Kansas City. I had intended to stop off in Butler, which is the birthplace of Robert Heinlein. Their public library received a donation from the Heinlein Society a few years ago, and they added a wing devoted to memorabilia of the first Grand Master. But I was running late, and wanted to be sure to make a panel at noon, so I passed up that opportunity. It's not like I don't already know a lot about Heinlein, and I may get another chance one of these days.
One of the main people I wanted to meet this year was David Gerrold, and I did at that first panel, "50 Years of Star Trek, Part 1," which also featured Melinda Snodgrass. She had written for ST: Next Generation, and a few comments she made seemed to indicate she might also be involved with Bryan Fuller's upcoming series, ST: Discovery. I did chat very briefly with David after the panel, but he was in a rush to get to another, and so was I. I had missed his autographing session on Wednesday, but he said to look for him at his seller's table and he'd be happy to sign whatever I had. I did that the next morning, so got two of my books signed and bought another, already signed. It was one I had never seen or heard of, titled The Involuntary Human, a special edition from NESFA Press (Northeast Science Fiction Association), to honor his Guest of Honor appearance at Boskone 44 in 2007. It was a limited edition of 1000 copies, and mine is #910. It includes five stories not previously published, the original novella version of "The Martian Child," and his first script version of "Blood and Fire," intended for ST: Next Generation, but rejected by Roddenberry and not filmed until the fan production New Voyages. The September/October issue of The Magazine of Fantasy & Science Fiction is a special tribute to David, but he had not yet received his copies. I get that on Kindle, but wanted the print version too so I could get it signed. Luckily, that happened on Friday.
Among the other panels I attended on Thursday were two on Heinlein. The first was "Investigating His Place in History," the second asking "Do the Juveniles Stand Up?" Both featured Dr. Marie Guthrie, a Heinlein scholar and professor of English at Western Kentucky University. I have just about everything of Heinlein's published in book form...except a volume unique to the Virginia Edition, a collection offered only through the Heinlein Society, and only as a complete set. Dr. Guthrie quoted from the one that included correspondence between Heinlein and John W. Campbell. Most of the letters in the posthumous Grumbles From the Grave were to and from Heinlein and his agent Lurton Blassingame, none from Campbell, so that is something I'd like to have, but can't afford that set. She said that some of the info might be online through the Heinlein Archives, which is handled by the University of California in Santa Cruz. One of these days I'll get around to searching for that. The other participant in the first panel was Dr. Bradford Lyau, who had some very interesting things to say about Heinlein in the context of the Age of Enlightenment. The panel on the juveniles was less informative, but still enjoyable.
After that came "Why I Write Short Stories," with James Patrick Kelly (who had complimentary things to say about this site several years ago), Mary Robinette Kowal, and Charlie Jane Anders, among others. I was able to get Charlie's autograph on her novel All the Birds in the Sky, which I will be reviewing soon. Another very good panel was "SF as Protest Literature," with Jo Walton, Ann Leckie, Mark Ashiro, Alex Jablokow, and Dr. Bradford Lyau again. The last panel I went to on Thursday was "Truly, Madly, Funny: SF That Makes Us Smile," with David Gerrold, Cynthia Ward, Tina Connolly, Alex Shvartsman, and Connie Willis. Yes, there were lots of laughs. Official activities continuted to at least midnight, and parties probably until the wee hours, but I was really tired by 6:00, so left to check in at my hotel. I wasn't in one that close to the convention center, about ten or twelve blocks, since it was less expensive. I was able to park near the con each day for just $5. I was getting in enough walking during the day, no need to do more between hotel and convention center.
Friday started in the dealer's area, where I saw Gerrold as mentioned previously. Don't ask me why I didn't take a picture or have someone else take a picture of us together. I'm kinda shy, and hate imposing on people like that. Unlike most everyone else, I don't use my phone for much besides calls and the occasional text. If I'm on Twitter or Facebook, 99% of the time I'm home on my desktop, or maybe laptop. I do regret not doing that now, and that goes for the entire convention, but it's too late. The first panel I attended that day was at 11, a reading of stories from The Magazine of Fantasy & Science Fiction. Editor C. C. Finlay was the moderator, the writers being Cat Rambo (who said her first story in F&SF was after 46 rejections), William Ledbetter, Esther Friesner, Sarah Pinkser, and David Gerrold. By that time, copies of the upcoming issue had been delivered, so I was able to get David to autograph one for me, which he did on the Table of Contents page rather than at the beginning of one of his stories. He read a portion of the novella, "The Dunsmuir Horror." I also got an autograph from Sarah Pinkser on the beginning page of the story she read, "Talking to Dead People." I'm glad I got a chance to tell her that two of her stories were on my Hugo nominations list, the short story "Remembery Day," and the novelette "Our Lady of the Open Road," which won a Nebula earlier in the year. The stories the others read were from previous issues, so I didn't get any other autographs at that session.
The next panel I attended was mainly so I could meet Alyssa Wong. I wanted to let her know she was my #1 pick for this year's Campbell Award for Best New Writer. Sadly, she didn't win, coming in second behind Andy Weir. This was not her only disappointment this year, but I'll comment on that later. I don't fully understand the way Hugo ballots are counted. According to a pdf file available from MidAmeriCon II (click the "2016 Hugo Final Statistics" link on that page), Alyssa actually had two more votes than Andy on the first pass of the count, more votes on the second pass, but five less than Andy then. I know they drop the last place holder for the second count, but still not sure how the other votes get redistributed. Color me confused. Anyway, Alyssa had also recently produced a short comic with artist Wendy Xu, and I was glad she still had copies to sell, so I bought that and got it signed. Only by Alyssa though, since Wendy was not at the con.
Also on Friday, I went to several science fact panels. The first was "Explore Mars" with SF author and NASA scientist Dr. Geoffrey A. Landis. He works on the Mars rover projects, and his presentation included info on Pathfinder, the first rover way back in 1997, as well as the current Spirit and Opportunity rovers, and the Mars Observer orbiter. Landis also participated in "Getting There: The Latest on Space Propulsion." Other panel members were Dr. Jordin Kare, Henry Spencer, and Les Johnson, who works at the Marshall Space Flight Center in Huntsville, Alabama. He was one of the best speakers out of anyone I saw througout the con, and I'm hoping some of his ideas and concepts end up being implemented by NASA. I'll mention him again when I talk about Saturday's panels. Another good session was "Generation Starships," which was mainly focused on fictional representations, but also dealt with the scientific, sociological, and psychological aspects that type of endeavor would entail. Participants included author/scientist Dr. Gregory Benford, and authors Pat Cadigan, Brenda Cooper, Mark Tiedemann, and Jerry Pournelle.
Probably the best panel I attended through the entire con was "Afrofuturism in SF&F." The only participant I was previously familiar with is Bill Campbell, owner/editor/publisher of Rosarium Press. They released last year's tribute anthology Stories For Chip. The main thing I took away from that panel is that I need to do more research and exploration of black authors (and other people of color too of course). Another member of the audience was involved with the webzine Fireside Fiction, which had recently released a report on the under-representation of black writers in the short fiction magazines, both print and digital. Their figures showed only 38 stories by black authors out of a total of 2039 last year. A question I posed was, out of the plethora of fiction venues today (I have 49 sites bookmarked, and I'm sure there are more), plus all the talk about diversity these days, is that all lip-service, and do the editors not actually care about following through? I think the statistics speak for themselves. I'll admit I've been lax myself in reading a wider range of authors, but I intend to correct that as much as possible. The moderator of the panel was William Hayashi, SF author and also host of a radio talk show (Genesis Science Fiction Radio) that focuses on black writers. Also, teacher Ajani Brown, who so far has only one published story, and writers Nick Wood from South Africa, and Cerece Rennie Murphy. She has written both adult oriented fantasy, as well as children's and YA. I made notes on several different sites to check out and authors to look for. There were a couple of other panels that day, but not as interesting to talk about, although there was one I didn't attend that got a lot of attention afterwards. I'll come back to that later.
I'm not going to identify the first panel I attended on Saturday, nor its participants. Something happened that upset me, but I don't want to call out the person responsible, nor have anyone trying to guess who I'm talking about. A panel member was very rude to a questioner who said something slightly negative about one of their books. If I wasn't so shy, I would have called them out on it ("Not cool!"). They probably thought their comment was identifiable as sarcasm not to be taken seriously, but to me it seemed arrogant and condescending. It is someone I've enjoyed reading in the past (a Hugo winner), and had even considered bringing a couple of their books to get signed, but now I'm glad I didn't. The next two panels were presented by astronauts. Jeanette Epps talked about her rigorous training, from entry to the program in 2009, through her completion of that two years later, and much more training after that, all leading up to her first mission in 2018. She said she wouldn't know her specific tasks until sometime next spring. Stan Love talked about his experiences in Antarctica on a mission to find and catalog meteorites. I got cold just watching his slide presentation. Next was "Traveler of Worlds," a discussion with Robert Silverberg about that book of interviews by Alvaro Zinos-Amaro. Three other science panels finished out my day, although I took a break at 4:00 to go to Jo Walton's autographing session. At 2:00, it was a one-man presentation on "How Can Space Technology Solve Energy and Environmental Problems on Earth?" Les Johnson detailed how NASA is using satellite and on-Earth observations in their efforts to understand shifting global weather patterns. He says we absolutely need to reduce our carbon footprint, eventually eliminating all use of fossil fuels, but that solar, wind, geo-thermal and other green technologies will not be enough to reverse the damage. We need to also concentrate on safer uses of nuclear energy. I hope he's wrong, but his arguments were convincing. Two other panels: "Ask a Scientist" and "Exploring the Solar System" were less informative, but not a waste of time either.
I did not attend the Hugo Award ceremony. I went back to my hotel instead, and was going to watch the live stream video, but it kept crashing, so I just followed the con's official Twitter feed. I left KC early Sunday morning, although I almost changed my mind so I could go to Alyssa Wong's reading at 10:00. I don't know how she was feeling then, because later I read details of how she had been harassed numerous times during the con. Some of the guilty parties were ones who had also harassed her at a previous con (WisCon), although I'm not sure if that was earlier this year or a previous year. The WisCon committee had told them to not contact her again, but they felt privileged enough to ignore that. There is absolutely no excuse for that type of behavior. If you like a writer, definitely let them know since they need all the encouragement they can get, but don't invade their space. If you don't like someone for various reasons, even more reason to leave them alone completely, move on to someone else or some other thing you do like. There were several other people I would have liked to have met, even took several more books to be signed by people who didn't show, but I don't know the reasons for their absence. If anyone didn't attend because they might have feared harassment then that would be a shame. If Alyssa chooses to not attend cons after this I will understand and sympathize, but that's also a shame, since I know she will be a strong presence in the field for many years to come. I talked to her briefly after a panel, got a comic signed, told her how much I liked her work, but hopefully avoided anything that would have offended her. As I've said already, I'm shy and sometimes awkward in public, so it's a wonder I didn't blurt out something stupid or act inappropriately (hopefully that is true). When I returned to the hotel Saturday evening I discovered that Charlie Jane Anders was also staying there, and while I would have liked to chat with her again, I refrained from approaching her, didn't want to seem like a stalker or harasser. If only everyone could let others have their own space and privacy, and stop encroaching on their boundaries, things would be better. I know it's naive to think that's going to happen, but I try to remain optimistic.
The Puppies were soundly whipped again this year, hopefully they'll tire of their hate and let the rest of us enjoy the genres we love, allowing diversity and inclusion to continue. Yet there will always be some who just don't get it, and unfortunately some of them have more ego than sense. While I was attending a panel on "Taboo Topics in SF" Friday afternoon, David Truesdale was "moderating" another. Several prominent editors were to discuss the "State of Short Fiction," but Truesdale tried to hijack the proceedings and give his own pronoucement of how feminism, diversity, political correctness, and general liberalness, was killing SF. Bear in mind that Truesdale had previously been ousted as editor of the SFWA newsletter for complaining about these same things. "But what about conservative values?" he moans. "You guys are bullies who can't stand disagreement." Hey, Pot, meet Mr. Kettle. Or better yet, meet the door, please be on the other side of it. MidAmeriCon II revoked Truesdale's membership and expelled him from the con. There are several sites that have mentioned this, one of the best being Jim C. Hines' blog. Since I wasn't there I won't say anything else, maybe shouldn't have brought it up in the first place, but stuff like this pisses me off.
All in all, my experience at MidAmeriCon II was a positive one, I just wish it had been so for everyone. I didn't witness any of the negative events, didn't hear about them until after I got back home. What I've written is just hearsay, others know the true story, and hopefully it will be discussed at length by the appropriate parties so that policies can be implemented to combat this type of behavior at future cons. I don't know if I'll ever go to another Worldcon. Certainly not Helsinki next year, although I've already paid for a supporting membership. I'm retired, so have the time, but my budget is real tight, spent more money last week than I should have, but I don't regret it. Maybe if two years from now it was in Sacramento instead of San Jose I might manage, since that's where my son lives. We'll have to wait and see. I will always continue being an SF fan, and maybe I can at least be a supporting member each year, so as to participate in nominating and voting for the Hugos. I already have a couple of novels in mind to nominate next year, and just got another well-reviewed one in the mail today. For those who will be in Helsinki next year, have a great time, and know that the rest of us will be with you in spirit.
Would you like to contribute an article on your favorite SF, Fantasy or Horror book, movie, TV show, or event?
Just email me.
We would appreciate your support for this site with your purchases from
Amazon.com and ReAnimusPress.