Joe's Comics
by J. Michael Straczynski
Reviewed by Ogre3000
Posted July 28, 2002
A purchase through our links may earn us a commission.
What else have I enjoyed recently or consider the best in comics (after Manhunter, of course) currently? Joe's Comics. The Joe being J. Michael Straczynski of Babylon 5 & Crusade fame! Joe's Comics is an offshoot of Top Cow & Image Comics. And his books are Rising Stars, Midnight Nation (which just ended its run) and, for Marvel Comics, The Amazing Spiderman (and that run ends soon also). All right, why should you read JMS's comics? Well, I would say for the ideas, the humanity, the taking of old themes & visions & giving them new life. Let's look at each one.
Rising Stars is the story of "The Specials", 113 children that were in the womb & touched by the passing of a comet over their town. They all gain powers beyond belief & are held & controlled by the government until they rebel & break away. Most of them anyway. Some become heroes, some stooges for the government, movie stars, powerful mad/insane or simply hide out. But there are no clear villains outside of the government aided by a zealot clergyman father of one of "The Specials". Even the two opposing most powerful, the main "hero" & "villain" were best friends that fight for years but eventually make it back up. Then there are a serious of disturbing events, the Specials are being murdered one by one & each survivor finds his or her power has grown. Then, one of the most powerful Specials, whom is deeply insane takes on the others & Chicago is destroyed & becomes a no man's land & then Specials are hunted by the government. Then the series jumps 10 years into the future & the rest of the Specials leave their hiding places, band together to take back Chicago. I would tell more, but you have to read the series, simply fantastic, these heroes truly change the world... You can get the first 2 collected volumes (and its run will be over in a few issues) & its first paperback by clicking on the title or the image to the right.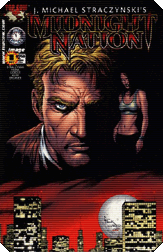 A purchase through our links may earn us a commission.
Midnight Nation. Simply a fantastic story! David is a detective whom while investigating a drive-by shooting one night & later while talking to a witness, sees him gunned down by weird characters in a black van. He tries to follow the trail of the black van & discovers a strange secret world of a battle of good, evil & his very soul is stolen. He finds that he must become a "walker" & walk the length of the country to NYC (before 9/11, the Towers are in every book in at least in profile) with his "spiritual guide", Lauren. You see, if David doesn't make the attempt to recover his soul, he will be come like the men from the van, dark, soul-less & reavers of the people that fall between the cracks of the 'real world'. Along the way, he discovers that Lauren has made this trip many times & no one has ever come back with their soul! How does it end? Does David get his soul back? Is David's future vision of Lauren dying if they reach NYC true? You'll have to read the book (soon to be collected in trade paperback) & find out...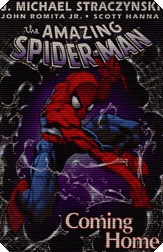 A purchase through our links may earn us a commission.
The Amazing Spiderman. Welp, Joe's take on Spiderman is just unbelievable! It has new characters & villains & the take is that Peter is some kind of Spider God avatar! Also, Aunt May finally found his costume & knows he is Spiderman, BUM-BUM-BUMMM!!! And historically JMS also penned the 9/11 issue with the black cover which is very hard to find. These are also collected (the first story arc) & are some of the finest issues of Spiderman I have read outside of the Ultimate Universe version.
Welp, good reading!
Ogre3000
Related Links:
Marvel's Straczynski Catalog
The World of JMS
Straczynski's bibliography at fantasticfiction.co.uk
We would appreciate your support for this site with your purchases from
Amazon.com and ReAnimusPress.